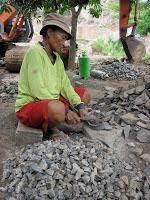 In the village of Tiron, natural resource extraction has become a way of life. Agriculture provides the largest amount of community income. Mining in the village is a close second. In both agriculture and mining, the tools of the trade are very simple: hoe, plow, hammer. Low technologies present very limited opportunities for personal development.
To be sure, swinging a hammer takes some skill, and farming requires intuition acquired from years of experience. Some people I have met in the village genuinely like the freedom and unstructured lifestyle of independent manual work. But most people, including those who shape public policy, regard development as that process that equips people for better jobs.
Resource Exchange International, Inc.(REI) makes that process happen in the village of Tiron.  Dehydrating technology, which represents a higher technology than hammers and hoes, facilitates development of individual competencies.  REI has invested in the research and development of dehydrators that have been successfully deployed in village areas, including the village of Tiron.  Through the introduction of these technologies, people are built and the prospects of community development are enhanced.
"Building people to build a nation" . . . one dehydrator at a time.