One great way to gain visibility for the Java Bite brand, get a feel for the market, and make new contacts is to attend food events here in Indonesia. September 2019 found us in Bali participating in an international food trade show.

REI, (Resource Exchange International, Inc.), is a key partner of PT SunREI Food Products, the Indonesian business. Since Doug Erdmann, the President/CEO of REI, was visiting Indonesia from the USA, we thought it would be a great opportunity to have Doug and his wife, Joyce, help us get ready for this trade show. I mean, who wouldn't want to go to Bali – even if there was some work involved?!
Over three action-filled days we met a variety of people who may collaborate with us as time goes on. One family owns a vegan restaurant in Kuta, Bali and hopes to increase the variety of meatless offerings on their menu. I couldn't have been more surprised when they asked us to create a dried papaya product with NO sugar so they could make a dish that mimics salmon! Woohoo, what a great idea! Visit Restaurant Manggis in Canggu, Kuta, Bali, for even more delicious and healthy ideas!
During another long exchange, the director of a large food manufacturer in East Java asked us to create a very sweet dried pineapple product…much sweeter than our normal product. She was not concerned about added sugars (now that's unusual!) because one piece of this dried pineapple would be stuffed inside a piece of shrimp with an amazing coconut breading on it and then quick-frozen, ready for the broiler – another novel idea! Since the firm normally sources their dried pineapple from Thailand, I assured her that our product would be far more delicious, home-grown, and less expensive! Surprise, surprise! They sell this amazing shrimp product in the USA. Now we just need to figure out where to find them when we next visit!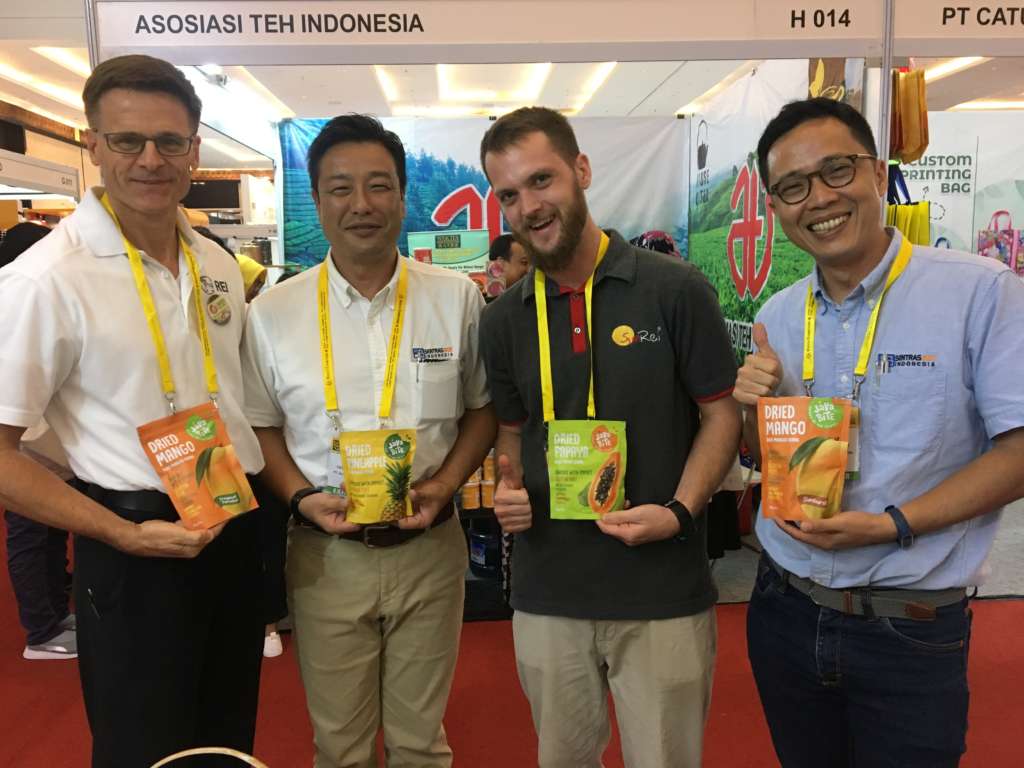 Besides these contacts, we met heads of large grocery stores, directors of five-star hotels, and numerous smaller vendors, including some interested in becoming distributors of Java Bite products. Everywhere we go, Indonesians are surprised to see the foreigners involved in our business, intrigued that we would leave the comforts of the USA to live out the vision of "Building People to Build a Nation."